Custom Application Programming
Our experienced programmers can develop a custom solution to meet any computing need.
Experienced in database integration, distributed web applications, remote data entry and retrieval, machine networking and interfacing, custom parametric CNC-code generation, and job shop management and control
Windows or Linux, Java or .NET, client based or server based. We can generate an application that meets and exceeds the requirements of any project.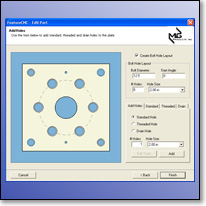 Click
here
to request a quote for a custom application solution.