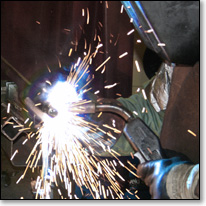 Welding
At MG Products, Inc. our welding department is experienced at high volume production welding.
Coordinating with production, assembly and laser departments, welding adds value for our customers by delivering parts complete and ready for use.
Our custom robotic rotary welding rig is capable of welding tube for hydraulic cylinders and other applications at large volumes.